13th September 2018
Download our notes as a printable PDF: India
Follow the links given for the full report in each instance.
INDIA
In the last few months there have been increasing reports of Christians being persecuted in India by Hindus seeking make India a completely "Hindu Rashtra" (Hindu nation) by 2024. Rather than split our attention between two countries this month we prayed for specifically for Christians in India.
It was not possible to read all the reports reports listed below, though the first six are listed in our printable notes.
This first report provides a very good introduction to why it is increasingly difficult for Christians in many parts of India. At present persecution seems to be focussed in rural areas, but if a "Hindu Rashtra" is to be achieved, attacks on Christians will have to spread to the cities.
10 Sept: Mission Network News
Hindu nationalists push for India to be a "Hindu Rashtra"; Christians at risk
India's Prime Minister Narendra Modi and his Bharatiya Janata Party (BJP) have further advanced these Hindu nationalist ideals — or Hindutva. BJP leaders have announced their goal to make India a "Hindu Rashtra" (Hindu nation) by 2024.

This goal of a "Hindu Rashtra" in India has gravely jeopardized the safety of Indian religious minorities, including Christians.
The following reports are listed with the most recent first:
12 Sept: Union of Catholic Asian News
Police in India lay charges against 270 Christian 'liars'
Police in India's Uttar Pradesh state have charged more than 270 Christians with "spreading lies about Hinduism and drugging people to try and convert them to Christianity."

Christians in Jaunpur district said on Sept. 10 that the move showed religious bias and was an attempt to terrorize Christians. Police in the district filed the charges against 271 Christians of a Pentecostal church last week after being directed to do so by a local court.
9 Sept: International Christian Concern
Three Pastors Severely Injured in Attack on Spiritual Retreat in India
International Christian Concern (ICC) has learned that members of the Vishwa Hindu Parishad (VHP) severely injured three pastors in an attack on Saturday, September 8. The attack took place under the close watch of local policemen in Premnagar, located in the Barely District of India's Uttar Pradesh State, where Christians were holding a two-day spiritual retreat. Pastor Ashok Benjamin, Pastor Vijay Masih, and Pastor Shivcharan were among those injured in the assault, sustaining wounds to their heads, hands, and lower backs.
8 Sept: Morning Star News
Hindu Extremists, Media Attack Large Church in Uttar Pradesh, India
NEW DELHI (Morning Star News) – Dismissing an initial investigation that cleared Christians of wrongdoing, police under pressure from Hindu extremists are pursuing false charges against a pastor and 270 others, sources said.

After appearing to halt Hindu nationalists' efforts to shut down a large church in northern India's Uttar Pradesh state, police who had told the pastor that they turned up no evidence of fraudulent conversion are now denying the initial inquiry took place, sources said.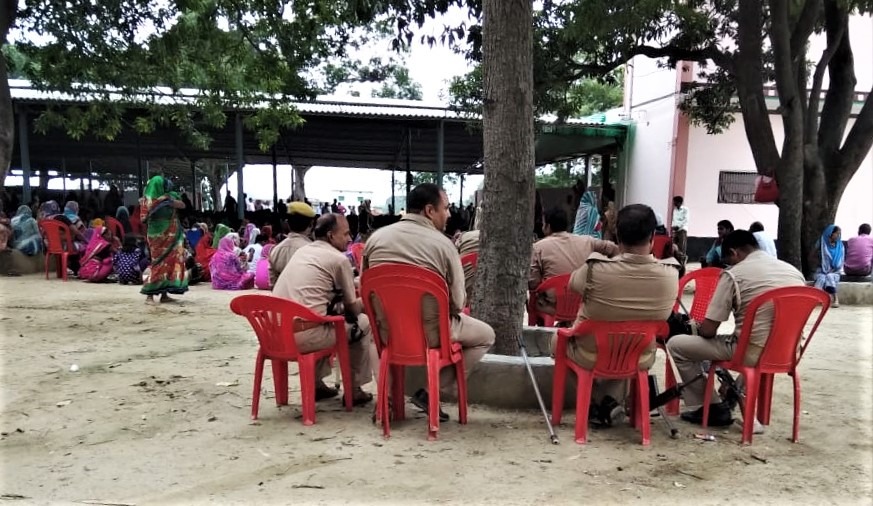 6 Sept: The Voice of the Martyrs Canada
Church Attendance Dwindling in the Face of Threats
Prior to May of this year, Pastor Singh's congregation in Jhabua, located in rural Madhya Pradesh state, numbered more than 200. Faced with increasing threats from militant Hindus, several families have stopped attending in recent months — to the point that attendance is now down to about 50 or 60 people.
30 Aug: Morning Star News
Hindu Extremists Suspected in False Charges against Pastor in India, Sources Say
A pastor could face life in prison after police in eastern India falsely charged him with leading a tribal rebel movement, sources said.

Christian leaders in Khunti District, Jharkhand state suspect Hindu extremists are behind the sudden, baseless accusations against pastor Jidan Herenz in March, when he was charged with sedition for allegedly leading the rebellious pathalgadi, a movement by tribal Adivasis to fight for indigenous rights.
30 Aug: Open Doors UK & Ireland
Back to school for women in India's rural villages
magine growing up with very little education, knowing that when you're older you'll be lucky if you earn the equivalent of one pound a day. This is the reality for many Christian women in India's rural villages. They and their families live in deep poverty. Often, no one, except other Christians, wants to talk to them.

That's why, through local church partners, Open Doors has set up sewing schools in remote villages in central India where persecuted women can learn tailoring skills for free. After graduating from the school, most of the ladies are able to earn a living by working in tailor shops. Some even start their own businesses!
29 Aug: Open Doors UK & Ireland
His church in India was destroyed three times – but Sujit won't give up
"I have seen miracles happen in Jesus' name, and have clearly witnessed God transform the lives of many people. I was able to lead 60 people to Christ in and around the village I live in."

God has been working powerfully through Sujit, a church leader from rural India. He experienced persecution from his family when he first became a Christian – he was even kicked out of their home and forced to flee his home village. But that didn't put him off. He went on to study the Bible for three years, and soon he was leading others to Christ as well.

Watch Sujit's testimony below:
28 Aug: Open Doors UK & Ireland
Back from the dead: Tilak's story of faith and miracles in India
"See, as your Jesus was beaten and killed, so have we killed your pastor now. His body is in a ditch in the forest. Find him and bury him!"

It seemed as though all hope was lost. Tilak, a church leader from rural India, was dead. Some of his Hindu neighbours had complained to a local group of violent extremists that Tilak was brainwashing the villagers and polluting their minds with the Christian faith – he had led 40 families to Jesus. The extremist group kidnapped Tilak, and when he refused to deny his faith in Christ, they beat him and tortured him. Finally, he collapsed. He had no pulse. Tilak was gone.

Or so it seemed.

The Christian families from Tilak's village found his body and brought it home. They laid him out in a hut, and people gathered to pay their last respects.

Then suddenly – he started to move. His eyes opened. Tilak was alive!
20 Aug: Morning Star News
Hindu Extremists in India Create Nightmare for Pastor's Family
When a Hindu in northern India got rid of the idols in his house after several visits to a church, Hindu nationalists found the perfect opportunity to make life a nightmare for a pastor's family, sources said.

Since the Hindu nationalists accused pastor Avianshu Kalra of desecration of Hindu idols and forcible conversion in Ambala, Haryana state, he and his family have had to leave their home, his wife has suffered pregnancy complications, and his father has been suspended from his work as a journalist after being hit with a defamation suit.
Undated: Release International
Christians injured and 'traumatised' by mob attack
A partially blind girl was among those beaten by a mob of masked Hindu extremists during a recent attack on a church in Uttar Pradesh, northern India.

After the attack in July, which 'traumatised' families, nine of about 50 injured Christians needed hospital treatment. As well as the injured girl, identified as Rishu, who was severely beaten with sticks all over her body, a ten-year-old boy needed stitches to a head wound.
---
Notes from previous prayer sessions in PDF format: